The Department of Creative Arts and Design at G.F. Abela, Junior College is presenting a series of introductory workshops to advanced studies in Art. The aim is for a better transitioning from secondary to post-secondary Art training by equipping participants with the foundation skills of drawing and painting and the ongoing practice of visual journalling. The programme will close with a small exhibition showcasing students' outcome from the workshops.
The workshops are targeted for 14-16 year olds who intend to take Art at Junior College both at Intermediate and Advanced level.
When? Every Tuesday (10 July - 19 September)
Where? Art Studio, Junior College
What time?
09:00-11:00
(Note: The Tuesday early morning class has now reached its full capacity. Due to the extensive response, we are opening a new class from 11:30-13:30.)
The registration fee of EUR100 for the workshops has to be carried out online through the website payment gateway portal.
The registration fee covers the following:
registration for the workshop series
basic art tools (a list of art supplies will be sent to applicants closer to commencement date)
a small art exhibition with students' work
For more information on the workshop series, send an email to Ms Olivianne Farrugia.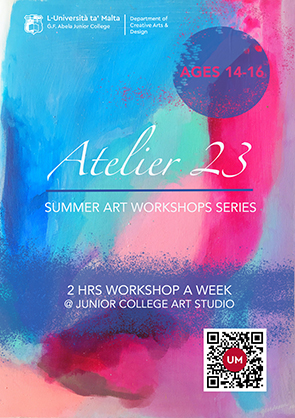 Click on poster to view an enlarged version